VANROBAEYS Revolution – NEW for the 2023 season !!!
VANROBAEYS Revolution – NEW for the 2023 season !!!
---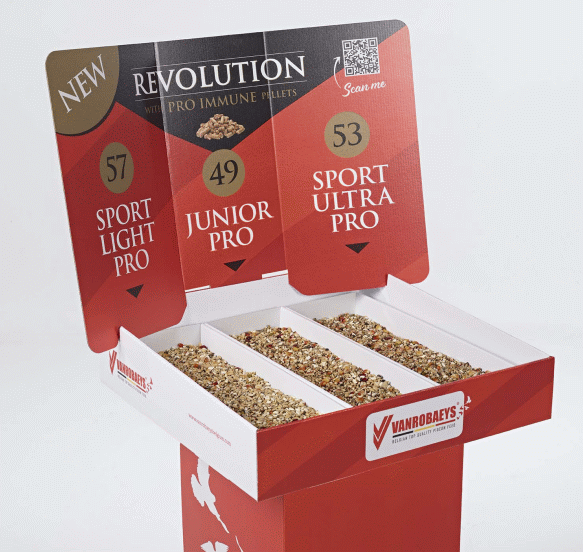 The pigeon sport in 2022 is getting more and more updated. Specialists in sports nutrition, we work day after day to adapt and, where necessary, improve our products in order to optimize the performance of your pigeons.
Together with some nutrition experts, we have developed a specially developed "new grain" set to work. This later than "Pro Immun Pellets" designated grain was first extensively tested for absorption, digestibility, vitality and immunity.
The tests on the test fields were completed with flying colours, whereupon we decided to put together varied and perfectly thought-out mixtures with the addition of grains.
Grains and seeds of the best quality, packed with proteins, fats and carbohydrates in combination with the new grain result in the ideal composition for every season at the highest level.
About Pro Immune
Why for us pro-immune correlates at?
Pro-immune correls are made with the best quality and special raw materials using high-tech production. Pro-immune correlates contain high-quality animal proteins, vitamins and trace elements. Pro-immune correlates also have state-of-the-art pre- and pro-biotics that help suppress possible occurrences of bacterial infections such as coli + coccidiosis.
Pro Health
All the necessary ingredients are incorporated into the pro-immune correls, so that no other supplements have to be fed. The intake and usability of the pigeons is extremely positive. The blends have been tested by several champions and rated absolutely positive with exceptional results.
Pro Health
the Pre- & Probiotics in the Pro Immune Granules support the gastric and intestinal flora and ensure healthy digestion, reducing possible Toxins and bacteria are eliminated naturally.
Pro Muscle
Vitamin D & Calcium ensures the function of the muscles and the maintenance of strong bones.
Pro Energy
the Addition of brewer's yeast, vitamins, proteins and trace elements to the Cereals and thus also for daily nutrition ensures that the batteries are always fully charged.
Pro Vitality
The addition of multivitamins & Minerals make the pigeons burst with vitality and they recover faster after returning home. Even after tough competitions.
feed schedules

More information about VANROBAEYS Revolution can be found here…(click)