The Becker family – the breeding and female specialists…
The Becker family – the breeding and female specialists…
---
Behind the impact community around the likeable Daniel Becker and his family is a thoroughly satisfactory 2021 season. In addition to "very few losses" from the price flights, the SG Becker once again defended the RV championship of the RV Dillperle Dillenburg, became 2nd FG champion against more than 50 traveling lofts and secured 3rd place in the yearling championship in the regional association 404. In addition, it was possible to set a few highlights, especially on the other flights from 400km and on flights of the IG long distance south east. The national flights in Amstetten on July 24th and St. Pölten on July 10th will surely stay in the Beckers' memories for a long time! Both were won:
Amstetten 23/18 prizes 1st, 7th, 8th, 15th, 18th, 19th, … Amstetten 23/18 prizes 1st, 7th, 8th, 15th, 18th, 19th, … Amstetten 23/18 prizes 1st, 7th, 8th, 15th, 18th, 19th,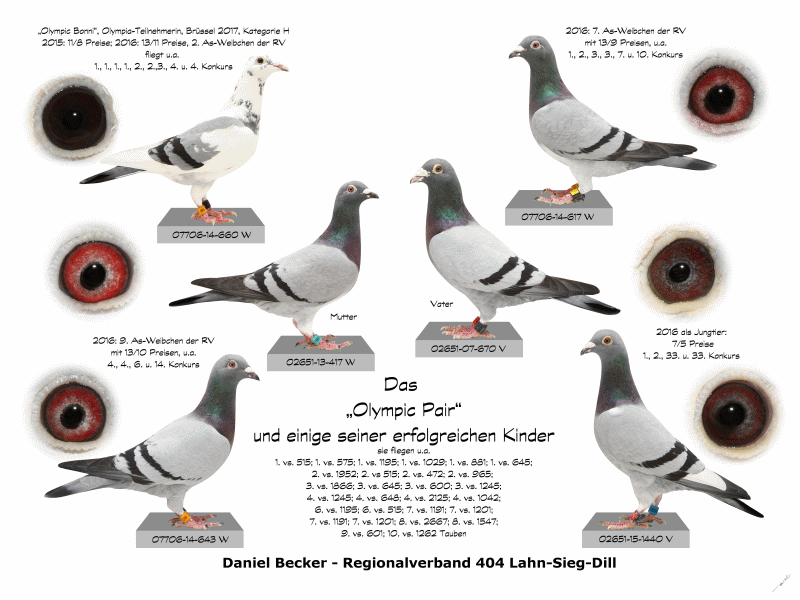 Amstetten 23/18 prizes 1st, 7th, 8th, 15th, 18th, 19th,
Training
The boys are often used for training and are challenged. Your training program starts with one kilometer and increases over five to ten kilometers. These short distances are about ten times. This gives the boys enough time to learn how the journey works and to become more experienced. After the short training, it goes a few more times on 25 km, 35 km or 50 km privately and then on a total of 4 RV preliminary flights. The Dillenburg site also organizes a 140 km training flight every Wednesday between the price flights for young animal flights. Of course, the young females of the Beckers also take advantage of this in order to get even more routine and condition. Daniel pleads for more flights - even for the youngsters. The better the education of the boys, the fewer losses of the year-olds can be expected in the following year. "The free flight over 400 km for young pigeons then gets a higher meaning for us. The boys should show themselves there."
ZG D.Becker/J.Bauer (for more than 10 years) Successes 2020! A breeding loft - 3 traveling lofts - a success - 13 first bankruptcies - best youngsters 1 - 49!
ZG D.Becker/J.Bauer (for more than 10 years) Successes 2020! A breeding loft - 3 traveling lofts - a success - 13 first bankruptcies - best youngsters 1 - 49!
ZG D.Becker/J.Bauer (for more than 10 years) Successes 2020! A breeding loft - 3 traveling lofts - a success - 13 first bankruptcies - best youngsters 1 - 49!
ZG D.Becker/J.Bauer (for more than 10 years) Successes 2020! A breeding loft - 3 traveling lofts - a success - 13 first bankruptcies - best youngsters 1 - 49!
ZG D.Becker/J.Bauer (for more than 10 years) Successes 2020! A breeding loft - 3 traveling lofts - a success - 13 first bankruptcies - best youngsters 1 - 49! & ZG D.Becker/J.Bauer (for more than 10 years) Successes 2020! A breeding loft - 3 traveling lofts - a success - 13 first bankruptcies - best youngsters 1 - 49!
ZG D.Becker/J.Bauer (for more than 10 years) Successes 2020! A breeding loft - 3 traveling lofts - a success - 13 first bankruptcies - best youngsters 1 - 49!
ZG D.Becker/J.Bauer (for more than 10 years) Successes 2020! A breeding loft - 3 traveling lofts - a success - 13 first bankruptcies - best youngsters 1 - 49!
ZG D.Becker/J.Bauer (for more than 10 years) Successes 2020! A breeding loft - 3 traveling lofts - a success - 13 first bankruptcies - best youngsters 1 - 49!
ZG D.Becker/J.Bauer (for more than 10 years) Successes 2020! A breeding loft - 3 traveling lofts - a success - 13 first bankruptcies - best youngsters 1 - 49!
ZG D.Becker/J.Bauer (for more than 10 years) Successes 2020! A breeding loft - 3 traveling lofts - a success - 13 first bankruptcies - best youngsters 1 - 49!
ZG D.Becker/J.Bauer (for more than 10 years) Successes 2020! A breeding loft - 3 traveling lofts - a success - 13 first bankruptcies - best youngsters 1 - 49!
ZG D.Becker/J.Bauer (for more than 10 years) Successes 2020! A breeding loft - 3 traveling lofts - a success - 13 first bankruptcies - best youngsters 1 - 49!
ZG D.Becker/J.Bauer (for more than 10 years) Successes 2020! A breeding loft - 3 traveling lofts - a success - 13 first bankruptcies - best youngsters 1 - 49!
ZG D.Becker/J.Bauer (for more than 10 years) Successes 2020! A breeding loft - 3 traveling lofts - a success - 13 first bankruptcies - best youngsters 1 - 49!
ZG D.Becker/J.Bauer (for more than 10 years) Successes 2020! A breeding loft - 3 traveling lofts - a success - 13 first bankruptcies - best youngsters 1 - 49!
1.RV female champion
1.RV year-old master
ZG D.Becker/J.Bauer (for more than 10 years) Successes 2020! A breeding loft - 3 traveling lofts - a success - 13 first bankruptcies - best youngsters 1 - 49!
ZG D.Becker/J.Bauer (for more than 10 years) Successes 2020! A breeding loft - 3 traveling lofts - a success - 13 first bankruptcies - best youngsters 1 - 49!
ZG D.Becker/J.Bauer (for more than 10 years) Successes 2020! A breeding loft - 3 traveling lofts - a success - 13 first bankruptcies - best youngsters 1 - 49!
1.RV Association master
ZG D.Becker/J.Bauer (for more than 10 years) Successes 2020! A breeding loft - 3 traveling lofts - a success - 13 first bankruptcies - best youngsters 1 - 49!
ZG D.Becker/J.Bauer (for more than 10 years) Successes 2020! A breeding loft - 3 traveling lofts - a success - 13 first bankruptcies - best youngsters 1 - 49!
ZG D.Becker/J.Bauer (for more than 10 years) Successes 2020! A breeding loft - 3 traveling lofts - a success - 13 first bankruptcies - best youngsters 1 - 49!
1,2,3,4,5,7,8,11,12,13,14,16,17,18,20….
1,2,3,4,5,7,8,11,12,13,14,16,17,18,20….
1,2,3,4,5,7,8,11,12,13,14,16,17,18,20….
1,2,3,4,5,7,8,11,12,13,14,16,17,18,20….
1,2,3,4,5,7,8,11,12,13,14,16,17,18,20….
1,2,3,4,5,7,8,11,12,13,14,16,17,18,20….
1,2,3,4,5,7,8,11,12,13,14,16,17,18,20….
1,2,3,4,5,7,8,11,12,13,14,16,17,18,20….
1,2,3,4,5,7,8,11,12,13,14,16,17,18,20….
1,2,3,4,5,7,8,11,12,13,14,16,17,18,20….
1,2,3,4,5,7,8,11,12,13,14,16,17,18,20…. & 1,2,3,4,5,7,8,11,12,13,14,16,17,18,20….
1,2,3,4,5,7,8,11,12,13,14,16,17,18,20….
1,2,3,4,5,7,8,11,12,13,14,16,17,18,20….
1,2,3,4,5,7,8,11,12,13,14,16,17,18,20….
1,2,3,4,5,7,8,11,12,13,14,16,17,18,20….
1,2,3,4,5,7,8,11,12,13,14,16,17,18,20….
1,2,3,4,5,7,8,11,12,13,14,16,17,18,20….
1.RV bird master
1,2,3,4,5,7,8,11,12,13,14,16,17,18,20….
1,2,3,4,5,7,8,11,12,13,14,16,17,18,20….
1,2,3,4,5,7,8,11,12,13,14,16,17,18,20….
1,2,3,4,5,7,8,11,12,13,14,16,17,18,20….
1,2,3,4,5,7,8,11,12,13,14,16,17,18,20….
Best yearlings 1,2,4,5,7,8,12,15,
Best yearlings 1,2,4,5,7,8,12,15,
Best yearlings 1,2,4,5,7,8,12,15,
Best yearlings 1,2,4,5,7,8,12,15,
Best yearlings 1,2,4,5,7,8,12,15,
Best yearlings 1,2,4,5,7,8,12,15,
Best yearlings 1,2,4,5,7,8,12,15,
Best yearlings 1,2,4,5,7,8,12,15,
Best yearlings 1,2,4,5,7,8,12,15,
Best yearlings 1,2,4,5,7,8,12,15, Best yearlings 1,2,4,5,7,8,12,15,
Best yearlings 1,2,4,5,7,8,12,15,
Best yearlings 1,2,4,5,7,8,12,15,
Best yearlings 1,2,4,5,7,8,12,15,
Best yearlings 1,2,4,5,7,8,12,15,
3. St.Pölten national zone 2 IGWSO – 06/26/2021 Top flight of the year – national flight Amstetten with 23/18 prizes – starting with 1,7,8,15,18,19….. Daniel & ZG D.Becker/J.Bauer (for more than 10 years) Successes 2020! A breeding loft - 3 traveling lofts - a success - 13 first bankruptcies - best youngsters 1 - 49!
ZG D.Becker/J.Bauer (for more than 10 years) Successes 2020! A breeding loft - 3 traveling lofts - a success - 13 first bankruptcies - best youngsters 1 - 49!
3. St.Pölten national zone 2 IGWSO – 06/26/2021 Top flight of the year – national flight Amstetten with 23/18 prizes – starting with 1,7,8,15,18,19….. Daniel
3. St.Pölten national zone 2 IGWSO – 06/26/2021 Top flight of the year – national flight Amstetten with 23/18 prizes – starting with 1,7,8,15,18,19….. Daniel
3. St.Pölten national zone 2 IGWSO – 06/26/2021 Top flight of the year – national flight Amstetten with 23/18 prizes – starting with 1,7,8,15,18,19….. Daniel
3. St.Pölten national zone 2 IGWSO – 06/26/2021 Top flight of the year – national flight Amstetten with 23/18 prizes – starting with 1,7,8,15,18,19….. Daniel
ZG D.Becker/J.Bauer (for more than 10 years) Successes 2020! A breeding loft - 3 traveling lofts - a success - 13 first bankruptcies - best youngsters 1 - 49!
1.RV female champion
1.RV year-old master
ZG D.Becker/J.Bauer (for more than 10 years) Successes 2020! A breeding loft - 3 traveling lofts - a success - 13 first bankruptcies - best youngsters 1 - 49!
1,2,3,4,5,7,8,11,12,13,14,16,17,18,20….
ZG D.Becker/J.Bauer (for more than 10 years) Successes 2020! A breeding loft - 3 traveling lofts - a success - 13 first bankruptcies - best youngsters 1 - 49!
1.RV Association master
3. St.Pölten national zone 2 IGWSO – 06/26/2021 Top flight of the year – national flight Amstetten with 23/18 prizes – starting with 1,7,8,15,18,19….. Daniel
3. St.Pölten national zone 2 IGWSO – 06/26/2021 Top flight of the year – national flight Amstetten with 23/18 prizes – starting with 1,7,8,15,18,19….. Daniel
ZG D.Becker/J.Bauer (for more than 10 years) Successes 2020! A breeding loft - 3 traveling lofts - a success - 13 first bankruptcies - best youngsters 1 - 49!
3. St.Pölten national zone 2 IGWSO – 06/26/2021 Top flight of the year – national flight Amstetten with 23/18 prizes – starting with 1,7,8,15,18,19….. Daniel
3. St.Pölten national zone 2 IGWSO – 06/26/2021 Top flight of the year – national flight Amstetten with 23/18 prizes – starting with 1,7,8,15,18,19….. Daniel
3. St.Pölten national zone 2 IGWSO – 06/26/2021 Top flight of the year – national flight Amstetten with 23/18 prizes – starting with 1,7,8,15,18,19….. Daniel
3. St.Pölten national zone 2 IGWSO – 06/26/2021 Top flight of the year – national flight Amstetten with 23/18 prizes – starting with 1,7,8,15,18,19….. Daniel
3. St.Pölten national zone 2 IGWSO – 06/26/2021 Top flight of the year – national flight Amstetten with 23/18 prizes – starting with 1,7,8,15,18,19….. Daniel
3. St.Pölten national zone 2 IGWSO – 06/26/2021 Top flight of the year – national flight Amstetten with 23/18 prizes – starting with 1,7,8,15,18,19….. Daniel
3. St.Pölten national zone 2 IGWSO – 06/26/2021 Top flight of the year – national flight Amstetten with 23/18 prizes – starting with 1,7,8,15,18,19….. Daniel
1,2,3,4,5,7,8,11,12,13,14,16,17,18,20….
1,2,3,4,5,7,8,11,12,13,14,16,17,18,20….
3. St.Pölten national zone 2 IGWSO – 06/26/2021 Top flight of the year – national flight Amstetten with 23/18 prizes – starting with 1,7,8,15,18,19….. Daniel
3. St.Pölten national zone 2 IGWSO – 06/26/2021 Top flight of the year – national flight Amstetten with 23/18 prizes – starting with 1,7,8,15,18,19….. Daniel & 3. St.Pölten national zone 2 IGWSO – 06/26/2021 Top flight of the year – national flight Amstetten with 23/18 prizes – starting with 1,7,8,15,18,19….. Daniel & 3. St.Pölten national zone 2 IGWSO – 06/26/2021 Top flight of the year – national flight Amstetten with 23/18 prizes – starting with 1,7,8,15,18,19….. Daniel
3. St.Pölten national zone 2 IGWSO – 06/26/2021 Top flight of the year – national flight Amstetten with 23/18 prizes – starting with 1,7,8,15,18,19….. Daniel
3. St.Pölten national zone 2 IGWSO – 06/26/2021 Top flight of the year – national flight Amstetten with 23/18 prizes – starting with 1,7,8,15,18,19….. Daniel
3. St.Pölten national zone 2 IGWSO – 06/26/2021 Top flight of the year – national flight Amstetten with 23/18 prizes – starting with 1,7,8,15,18,19….. Daniel
1.RV bird master
1,2,3,4,5,7,8,11,12,13,14,16,17,18,20….
1,2,3,4,5,7,8,11,12,13,14,16,17,18,20….
4.RV Vorbenanntenmeister
4.RV Vorbenanntenmeister
4.RV Vorbenanntenmeister
4.RV Vorbenanntenmeister
4.RV Vorbenanntenmeister
4.RV Vorbenanntenmeister
4.RV Vorbenanntenmeister
Best yearlings 1,2,4,5,7,8,12,15,
4.RV Vorbenanntenmeister
4.RV Vorbenanntenmeister
4.RV Vorbenanntenmeister
Best yearlings 1,2,4,5,7,8,12,15,
3. St.Pölten national zone 2 IGWSO – 06/26/2021 Top flight of the year – national flight Amstetten with 23/18 prizes – starting with 1,7,8,15,18,19….. Daniel
4.RV Vorbenanntenmeister
4.RV Vorbenanntenmeister
4.RV Vorbenanntenmeister
4.RV Vorbenanntenmeister
4.RV Vorbenanntenmeister